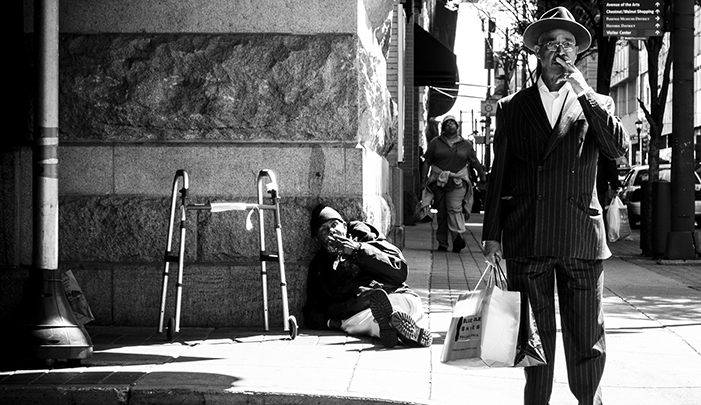 © 2015 Jaleel King | www.jaleelking.com
I really couldn't find a good answer to this as I've been a victim to these periods in my creative and personal life as well. King went on to tell me that the false sense of success on social media from likes and followers has made him take a break from it all and said he hasn't even posted a photo on Facebook in almost a year. As a photographer I was taken aback, but then when I thought about my own Facebook photography page, I realized it's been nothing but Instagram posts and occasional shots of my kids for the last year too. Like many artists, I'd dealt with times of being burnt out on my art leading me to take a part-time gig or a full-time job over the years just to provide some sense of a break, as a way of building my yearning to create back up again.
Worry about being true to yourself and everything else will come.

— Jaleel King
For many of us these time periods are when family members and loved ones pull you up out of your funk. However, there are times when someone simply being nice and looking out for you has you questioning why or what their agenda is; we as humans are notorious for self-deprecation, especially artists. We don't think we're worth even having a friend who really cares about us and wants to see us feel better, we look back at our successes and see them as simply not enough. King talks about a WPPI photo contest he entered a couple years ago where he won second place (Photojournalism/Non-Wedding category) — yet only afterward mentions that out of the top 10 final images selected to pick out the winners, four of them were his. He admits that he rarely remembers to take pride in that fact; it seems we only see the negative in our accomplishments as a way of pushing ourselves for more, to do better and grow as artists.
Sure some may think we're just being dramatic about it all, but just think of any A-list celebrity you admire after they win an Oscar or Grammy. That one amazing success is so short lived before the pressures set in again. Will I be able to repeat this success again? Or will I be labeled a one-hit wonder? This constant struggle to find repeatability in success to have clients, agencies, and studios know that you're dependable and consistent makes us lose sight of the little victories along the way. It's this sort of feeling that is notorious with writers, whom society thinks have endless ideas and books just brimming inside of them waiting to put them to paper for everyone to enjoy. All this to simply stay relevant in a world of instant gratification.
When does one then simply enjoy their success?
Yet, it's not all doom and gloom for King. Recently he's been learning to accept help from others and just learn to say "why not?" as opposed to making all the excuses as to why he can't or shouldn't do it. It's been this thinking that recently had him go all the way to Australia to speak at the Zero Regrets Conference, which was a life-changing experience for him. However, it wasn't always easy and after spending an amazing three weeks in Australia with inspirational creatives like Jeremy Cowart, James Day, Oli Sansom, and of course the Zero Regrets founders, Matt and Katie Ebenezer, it was the coming home off that endorphin high to be alone, again, that brought King crashing to a halt.