Opinion: MAiD for mental illness risks people receiving an assisted death because they can no longer cope with their living conditions — lack of food, shelter and a welcoming community.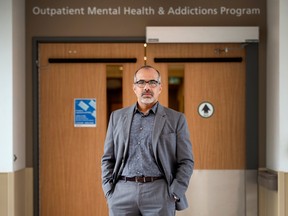 Article content
"Soylent Green is people!"
Article content
That was the iconic line delivered by Charlton Heston at the end of the 1973 science-fiction film Soylent Green. The film envisioned a dystopian future beset by poverty, food shortages and a lack of housing, the results of overpopulation, pollution and global warming.
Article content
Only the elite can afford proper housing and natural food, while everyone else lives in squalor and survives on a synthetic food known as Soylent Green. Those who can't cope with these conditions are permitted, even encouraged, to receive an assisted suicide at a government clinic.
The suicides play an important role since, as Heston's character discovered, their bodies are used to make Soylent Green. And one more thing: The film's fictional dystopia was set in 2022.
Article content
With recent changes to Canada's law concerning medical assistance in dying (MAiD), critics are wondering if Soylent Green might have been a little too prescient. The law (Bill C-14) was first enacted in 2016, after the Supreme Court of Canada declared unconstitutional the law criminalizing assisted suicide in Carter v. Canada.
Among other things, the 2016 amendment required that those seeking MAiD suffer from an "irremediable" condition and demonstrate that a natural death is "reasonably foreseeable." That latter requirement was ripe for Constitutional challenge since the Carter decision didn't suggest any such restriction on the availability of MAiD.
Sure enough, the law was subject to four separate challenges, and in 2019, the Quebec Superior Court declared the restriction unconstitutional. Declining to appeal that decision, Ottawa instead enacted a new law (Bill C-7) in 2021 that permitted MAiD even if a natural death wasn't reasonably foreseeable.
Article content
In that year, 2.2 per cent of the roughly 10,000 MAiD provisions were for people whose deaths weren't reasonably foreseeable, and nearly half of those suffered from neurological conditions. In contrast, among those whose deaths were foreseeable, cancer was by far the most common reason for seeking MAiD.
One group of Canadians was, however, excluded from receiving MAiD — those for whom the cause of their suffering is mental illness. That restriction would also likely have been the subject of a Constitutional challenge, but, in March 2023, the law will be extended to permit MAiD in cases where a mental disorder is the sole underlying condition.
Needless to say, the decision to permit MAiD for mental illness has had a polarizing effect, not just on Canadians as a whole, but also among members of the mental-health professions.
Article content
Advocates argue that barring one group from an assisted death smacks of paternalism and amounts to unjustifiable discrimination, while opponents stress that offering MAiD in cases of mental illness risks further victimizing an already vulnerable group.
As these concerns were predictable, Ottawa convened an expert panel to suggest safeguards over and above those already in place for MAiD. The panel delivered its final report in May, and the special joint committee on Medical Assistance in Dying is now conducting hearings on the matter.
Much of the discussion and debate has centred on if and when a mental disorder qualifies as "irremediable." Given the frequently cyclical nature of mental illness, and the lack of any accepted standards for determining irremediability, there is substantial disagreement about whether the requirement can be satisfied.
Article content
But the main problem with the discussion thus far is that it has been informed largely by a medical model of mental illness — one that sees physiology and pharmacology as key to understanding and treating illness, while devoting relatively little attention to social determinants of health.
Yet we know that social factors like poverty, racism and housing, and food insecurity, are all associated with poorer physical health. And since all of these factors are also strongly associated with anxiety and depression, they can have an even more pronounced effect on people's mental well-being.
We can't, therefore, have an informed discussion about the irremediability of mental illness without considering social, economic and racial inequality — the conditions that, according to numerous studies, act as both causes and consequences of mental illness.
Article content
Consequently, our narrow understanding of treatment — as one involving pharmacological and perhaps psychotherapeutic approaches — must give way to a much broader conception, to one that involves the amelioration of social conditions that play a pivotal role in the genesis and course of illness.
Treatment isn't just drugs and the so-called "talking cure" — it's ensuring people have enough food to eat, a roof over their heads and a welcoming community to reside in. Otherwise, we risk people receiving an assisted death, not because they suffer from some physiological malady, but because they can no longer cope with their living conditions.
Indeed, in testimony before the special joint committee, University of Toronto psychiatry professor Sonu Gaind testified that that's exactly what MAiD for mental illness can lead to. When MAiD involves a terminal illness, Gaind testified, it's more strongly associated with white, privileged people who are seeking a death with dignity.
But when MAiD involves mental illness, the "association completely flips … these are the group of non-dying marginalized, who have never had autonomy to live a life with dignity. Rather than death with dignity, they are seeking an escape from life's suffering."
This is the world of Soylent Green. And if we're to avoid that dystopia, we need to value the right to live with dignity just as much as we value the right to die with it.