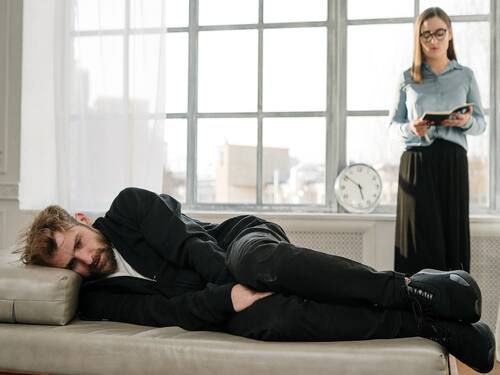 While a psychiatrist might look at a patient primarily from a biological point of view, a psychologist might look at them from a behavioural standpoint
More and more people are becoming open to taking help for their mental health. The definition of health not just encompasses physical fitness but also mental and emotional well-being. While many people might be actively looking up for healthcare providers at this very moment who could help them with their struggling minds, there is one confusion that marks this search. The role of a psychologist and psychiatrist is often understood interchangeably. People seeking medical health for mental illness might often find themselves at a crossroads of whom to choose- a psychologist or a psychiatrist. Many might not be sure yet if the two aren't similar.
To start with a psychiatrist is a medically trained doctor who like others of their kind can diagnose and treat mental illnesses. They are licensed to provide medications just like a physician or a specialist. Psychologists, on the other hand, are trained mental health care providers who can help people resolve complex thinking processes, and difficult emotions and cope with struggles of life. They provide their services through therapy. The two differ in the educational qualification they hold and while the former looks at a patient from a biological point of view, the latter might look at the patient from a behavioural point of view. Psychologists also diagnose mental health problems but they cannot prescribe medications except for some who might be specialized.
What is the difference?
Psychologists and psychiatrists have different educational backgrounds. Psychologists usually have a doctorate in philosophy or psychology. This might follow taking training in clinical settings. Not all psychologists become therapists. For this, they might need specialization for instance such as clinical psychology and will be required to earn a license to practice. There are other areas of specialization too such as neuropsychology, child psychology, forensic psychology and others.
Psychiatrists on other hand pursue medicine like other doctors. They might first study general medicine and then specialize in psychiatry. They usually have more years of study than psychologists.
Whom to choose?
Psychiatrists often deal with serious mental health issues that might or might not require medication. These disorders might include major depression, schizophrenia, bipolar disorder and others. As doctors, they might focus more on biological factors that caused the illness like altered chemicals in the brain. A psychologist on the other hand will look at patient from a behavioural point of view. Their approach is not purely biological but more on the functioning of the mind. When a person is having difficulty with emotions and behaviour, it might be a good idea to visit a psychologist first. However, if a person might be showing symptoms of serious mental illnesses like extreme mood changes and other conditions where you think medicine would be needed. A person can visit a therapist if they feel that therapy alone can help them progress with their life. If you intend to open up about your emotional struggles, then you must visit a psychologist. In many conditions, both therapy and medicine have to go hand in hand. Hence, you will have to keep visiting both from time to time. Sometimes a therapist might refer you to a psychiatrist and vice-versa.
Total Wellness is now just a click away.
Follow us on