Positive affirmations for anxiety could help you to be at ease in your daily routine. Anxiety is a feeling, a constant state of mind leading to certain thought patterns, that makes one restless and too anxious.
When a person suffers from any kind of mental distress, he/she tends to dwell on a lot of negative self-talk that only worsens the condition. Positive affirmations can help to restore your self-worth to a larger extent by boosting your opinion of yourself and your confidence in your ability to fulfil your dreams and goals.
Affirmations are like a balm that can help an individual to counter feelings of panic, stress, self-doubt, and anxiety. 
25 Positive Affirmations For Anxiety
Affirmations are nothing but a set of positive statements we make for ourselves. Affirmations are very useful to come out of certain self-sabotaging beliefs we hold for ourselves. 
We often dwell on negative self-talk and self-doubt. We hardly pay attention to our inner voice and leave it unattended. If you listen carefully there is always a need for assurance and validation and that gap could be filled by the use of positive affirmations.
These positive affirmations for anxiety help you when you repeat them and believe in them, when you have faith in what you are saying, you begin to experience positive changes in your mindset slowly and gradually.
If we can think of harming ourselves, if we can choose to give up on our dreams, if we can choose to doubt our own self, how about choosing ourselves this time? When you say positive things to yourself you start believing in yourself, nurturing yourself, and preparing yourself for a better tomorrow. Let the healing begin with these simple yet power-packed statements.
WATCH THIS
25 Positive Affirmations For Anxiety That Will Help You Ease
You can use these affirmations any time as per your convenience, but make sure you repeat the affirmations looking into the mirror eye to eye, when you do this you see yourself becoming a more confident version of yourself and it gives a positive message to your brain. It will not only help you to enhance your visual experience but also boost your confidence in yourself.
Research shows that affirmations are a powerful way to improve your mindset and increase your feeling of self-worth. Your thoughts play a big part and it is very important to find ways to enhance them. It could be a lot easier to affirm others than it is to ourselves, but we need to remember to encourage ourselves daily.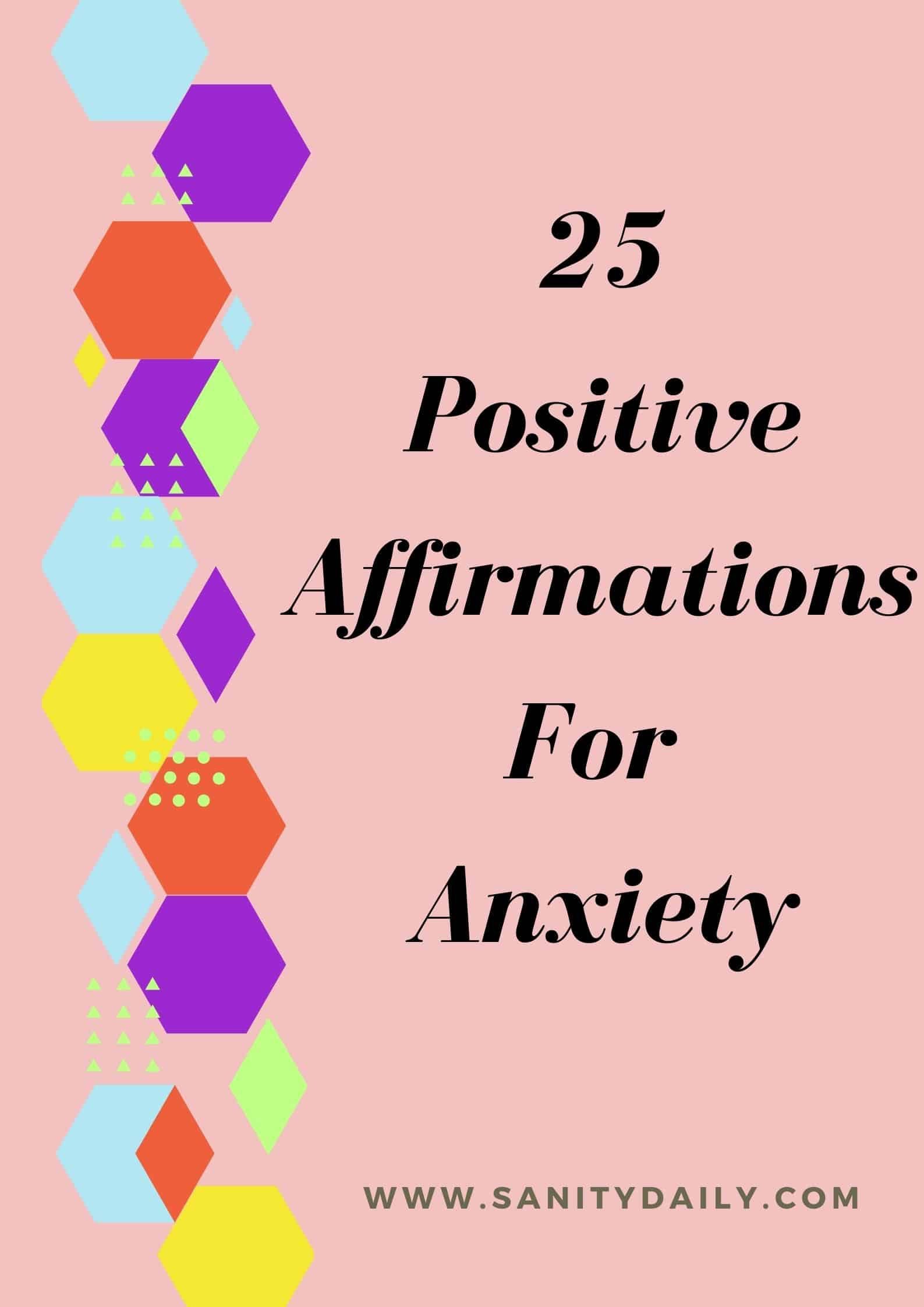 Here is a list of 25 positive affirmations for anxiety for you:
1.) I believe in myself
2.) I am capable of doing things that matter to me
3.) I am stronger than I know
4.) I overcome my fears
5.) I put my energy in the right direction
6.) I am more mindful of my actions
7.) I manage my worries and work on them
8.) I define goals for myself
9.) I am grateful for what I have
10.) I am at peace with myself
11.) I trust myself
12.) It will be alright
13.) I regain my calm
14.) I replace all the negatives with the positives and smile
15.) I am safe and in control
16.) My mind is clear
17.) All is fine in my world
18.) I am free from all the things that are not in my control
19.) I am calmer with each breathes I inhale
20.) My mind is clear and in control
21.) I am happy to be at peace
22.). I feel free
23.) I feel lighter 
24.) I am in control
25.) My body is in control
Pick up two or three of the above-mentioned positive affirmations, or you can also make up some of your own and say them to yourself regularly throughout the day. make sure you say them aloud. You can make the maximum use of these affirmations if you face anxiety issues and no one is there to ground you.
These positive affirmations for anxiety will help you to calm down and take a breather. If you make it a practice to affirm a few of these regularly, it will become the magic tool that you can access whenever you feel a lack of worth or self-esteem.
A human mind roughly goes through 50,000 thoughts in a single day, now imagine the quality of thoughts you might be feeding your brain with. What food is to the body are thoughts to our mind. These positive affirmations for anxiety will surely help you to calm down.  But before practising these or making your own affirmations, do remember the below-mentioned things to keep in mind, it will help you 🙂
Few things to keep in mind 
Be consistent with your affirmations

Believe in what you are saying

Keep your affirmations in the present

Use 'I' or 'Myself'

Make sure it is a positive sentiment

Make them specific

Stick them to your work-desk

Keep them where you can see them often