My senator, John Fetterman, has checked into a hospital for clinical depression.
This is an action that an increasing number of Americans will likely take in their lifetimes, given the rising rates of depression. Still, Fox News has already pounced: Tucker Carlson argued that Fetterman is "unfit to serve in the United States Senate", while Laura Ingraham went as far as to imply that Fetterman's wife has worked to hide his condition and that the act was "craven or a cruel political calculation by a stage wife and political nihilist".
Fetterman isn't exactly the only person in the United States suffering from some form of depression. According to a Boston University study, "[d]epression among adults in the United States tripled in the early 2020 months of the global coronavirus pandemic – jumping from 8.5% before the pandemic to a staggering 27.8%", and it only got worse from there. According to the same study, rates of depression continued "climbing to 32.8% and affecting 1 in every 3 American adults".
Stroke victims, which Fetterman is, are particularly susceptible to depression. According to a study in the Journal of Clinical Medicine, "depression occurs in roughly one-third of stroke survivors." In terms of major depression, which involves at least two weeks of depressive symptoms like problems with sleep and sense of self-worth, the National Institute of Mental Health reported that roughly 8.4% of all Americans had at least one depressive episode in 2020, with higher rates among "adult females (10.5%) compared to males (6.2%)".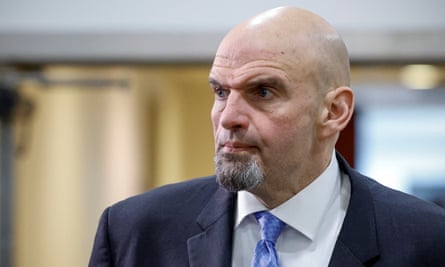 This disparity is why it is important for women in positions of influence like Olympian Simone Biles and former New Zealand Prime Minister Jacinda Arden to speak out about their own mental health struggles. Similarly, it is important for men in positions of power like Fetterman, especially given the reluctance of men in particular in seeking treatment. Trying to push Fetterman out of politics belittles millions of Americans and signals to roughly one-tenth of the country that they are not worthy of being elected to office.
Fetterman, like many Americans who have experienced clinical depression, can still accomplish much of what he sets out to do. Shooting him down now would be similar to what was done to Thomas Eagleton, the original running mate of democrat George McGovern's 1972 run for the presidency. Eagleton was essentially shamed out of the position after it was revealed that he'd suffered from depression in the past and received electroshock treatment for it. Despite the slights against him and his resignation from the candidacy, he won the heart of his constituents and served another two terms as senator.
Every day, millions of depressed Americans go to work, and the country wouldn't function without them. While Fetterman may need to step down or decline to run in the future as Arden did, he should actually be given a chance to govern.
Fetterman seeking treatment should not trigger calls of incompetency. Instead, it should trigger empathy and questions of how we can ensure that others can seek the help that they need.
In the words of Senator Tina Smith of Minnesota, who spoke openly about her depression in 2019: "De-stigmatizing and de-mystifying mental illness is just the beginning. Everyone can be a friend to those in need by urging them to take advantage of the resources available to them. But the one hundred of us here in the Senate have a responsibility to make sure those resources are available to everyone."