It is 8am on a rainy morning outside Ruby Wax's house in London's Notting Hill Gate. The American-British comedian, writer, television personality and authority on mental health has suggested we meet before breakfast, although the reason for this timing, intended to be helpful to each of us, no longer seems as clear as when the arrangement was made. It is like being up for some antisocial budget flight. Her white stucco house is handsome from the outside and lights are on in the lower-ground-floor kitchen as I ring the bell. I spot a window box crammed with artificial flowers – as if to say: the show must go on, whatever the season. In this, they are like Wax herself.
Her new book, with the disarming title I'm Not As Well As I Thought I Was, was meant to be about travelling the world in a (partly tongue-in-cheek) search for the meaning of life – and it still is. But while she was on her travels researching it, she was hijacked by a paralysing depression and ended up checking herself into a psychiatric hospital. So the book became something more embattled and exposing than planned.
She has a miraculous ability to write about depression without being depressing, and there are many entertaining adventures before she comes to a standstill. But more of this in a moment. For here she is at her kitchen table, asking if I'd like honey with the tea, wanting to know if it tastes alright: "Tell me the truth…" she instructs. It is, I suddenly realise, the exact phrase she used in her groundbreaking interviews with celebrities on the BBC's When Ruby Wax Met… in the 90s (she has interviewed everyone from Trump to Madonna to OJ Simpson).
Getting to the truth is Wax's strong suit – especially when life dishes up the unexpected. "And maybe weird stuff does happen to me," she says. I pick up a nervousness in her – which anyone brave enough to speak out about mental illness might be justified in feeling – that her story might get falsely tweaked or go down the wrong way. She is wearing black, tight-fitting trousers and a bright pink jumper and asks if I mind her eating toast, commenting that she can tell the bread is vegan, "because it is more expensive and tastes like paper", before adding that it belongs to someone else in the house and she is merely trying to "be good". I like her instantly – even at this hour in the morning, she makes me laugh. She has a wonderful speaking voice – a mix of outspoken and unsure. She seems on the back foot and is tiny for a woman who has made a career of being larger than life.
I congratulate her on pulling off a double coup: writing the memoir she did not set out to write and the one she did. The book is an escapist's multitasking marathon (for escape, think endurance). It takes her to Spirit Rock outside San Francisco, "the mecca of mindfulness", for a challenging, month-long silent retreat, to the Dominican Republic to swim with whales, and to a refugee camp in Samos – provoked by listening to people at dinner parties bewailing the refugee crisis and thinking: "If it really bothers you, get off your ass and do something." But there is no virtue-signalling with Wax. She is aware of her privilege – and, in a particularly revealing chapter, describes getting an SOS text from an Afghan refugee while in Peter Jones buying a goose-down pillow (against the odds, she eventually manages to help him).
But the book opens in an unnamed mental institution with "all the charm of the hotel room/prison I was isolated in at Heathrow airport after entering the UK from South Africa during Covid times." She writes: "Checking in here wasn't exactly on my agenda. Writing about it even less so, yet here we are." She defines depression as: "the black hole of diseases, where you sit helpless as your mind hammers you with accusations. Your thoughts attack like little demons biting chunks out of your brain. It's hard to stay alive and listen." And she confesses: "I've spent a lifetime creating a 'front' to give the illusion that all is well. It wasn't and it isn't."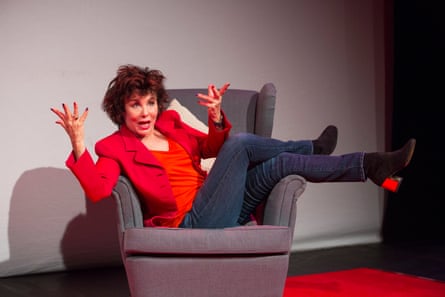 Her friend the Rev Richard Coles had recommended – as a possible element for her book – that she visit a Christian brotherhood, the Community of the Resurrection in Mirfield (where he trained). And it was during her stay there that depression (first diagnosed in the 90s) got its claws back into her. Was it that she had taken on too much? "I'll never know. What was the moment? That time [in the monastery] could have been the most pleasurable experience. Maybe it was because I'd got off medication to do the psilocybin [a "potential cure for depression" – another of her ideas for the book]. But it can happen when your career is going really well… there is no predictor. Depression is a disease that decides to rear its head – like herpes. Are you sure you don't mind my eating?"
In the middle of soul-searching with a priest, she made her excuses, pretending she had a Zoom call: "I just wanted to go to bed, so I lied to him. I lied to a priest. I think he probably knew I didn't have a Zoom call, but he still looked at me with non-judgmental love." That depression was making a comeback was unexpected not least because, for 12 years, Wax had kept herself well through mindfulness. She has a master's degree in mindfulness-based cognitive therapy from Oxford, has written books about it, and has an OBE for her services to mental health.
"I used to be able to see it [depression] coming and pull back everything. I'd know to cancel, cancel, cancel. I'd go to my room, a safe place where nobody can get me, and where I can see the door knob – because I have a fear of being locked in. Sometimes I've been there for weeks. Instead of having to go to a hospital, I'd wait for the dopamine. Before that, I used to keep working and overriding it, then I'd get really ill. I usually know the tipping point. But this time, I missed it."
---
On the face of it, mindfulness goes against her grain. She is restless, happiest when on the move. But that is precisely why meditation is helpful: "I have to do 45 minutes every day – about four of us do it together on Zoom. I did 15 minutes today, before you came, figuring I'll be in a taxi later… going to get my teeth fixed…" But to sit still and find the "wise" adult who can calm her inner kid is challenging: "You really watch yourself: how agonising it is just to be in your own skin."
As soon as she realised she was "spiralling downhill", she rang her psychiatrist, who advised her to return to London. He told her that he knew, from her voice, all was not well, which made her feel "that shame we depressives usually feel at some point, like I was being self-indulgent, making the whole thing up for attention." But as she explains: "Once you're in it, you hardly know where you are. You don't exist any more. Your spirit has left the building."
There is mental illness in the Wax family (as there is in most families if you look hard enough). When she took part in the BBC's Who Do You Think You Are?, she made the discovery that her great aunt and great-grandmother both spent time in mental asylums. "Is it Vienna or the genes?" she wondered. In 1939, Wax's parents left Vienna to escape the Nazis. She has joked "my parents ran from Europe to escape the war and I ran to Europe to escape them". There was never any talk at home of relatives killed in the Holocaust. Wax did not even know her mother was Jewish until she was an adult and stumbled upon her passport with a red J for Jew and a swastika. Had her parents been able to speak about any of it, it would have made a huge difference to her: "I'd have understood why they were so outraged and crazy."
She was raised in Evanston, Illinois, where her father, "driven by that immigrant spirit", became a sausage manufacturer. Her mother trained as an accountant. There is a photo of Ruby – she would be about three – in her memoir, How Do You Want Me? (2002), holding hands, a parent on either side. Her face is a storm cloud. She can still remember how she felt: "Extreme loneliness. And terror. Because there was no safety."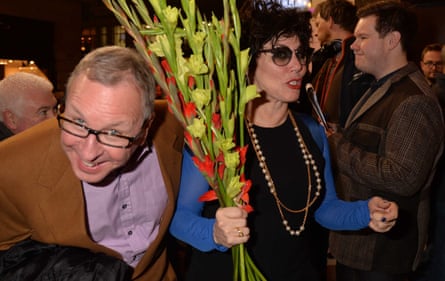 Wax has had comic mileage out of her parents – launching her career with comedy based on their ghastliness. Was anything good about them? "My parents over-loved me. They wanted a little doll who'd be the American dream. Instead, they got this androgynous, angry, repressed child." She thinks her talent for comedy comes from her father, who was "a great comedian", although his humour had a "vicious" streak. Meditation has also helped with the anger she thinks she inherited from him: "I've switched that button off." Her mother was beautiful, clever and "obsessively" clean: "Even in a five-star hotel, she'd be on her knees, washing out the garbage can." She adds: "I can have that too. Not in the same way but, if there's a crumb, I'll chase it."
Her mother would never reveal her age and Wax is similar. She seems almost ageist about herself: "I can't have people know how old I am. There's a shame connected to ageing. Doesn't everybody feel embarrassed – as if you were apologising for your own demise?" She insists she has to check her passport to find out how old she is (passports are incendiary documents in the Wax family). And with age, I suggest, comes nest-emptying. When her adult children, two daughters and a son, left home, how did she cope? "I howled like an animal. I didn't expect myself to go primitive, but I was on all fours, like a cow giving birth." She then sends herself up further by saying her son was only going as far as Southampton. These days, her children are "always in and out".
She is married to Ed Bye, a television and film producer who, during the course of the book, is diagnosed with prostate cancer – and gets the all-clear that it has not spread. When she first hears the news she breaks down, while he "remains stoic". She describes him as her "sherpa" during her hospital stay. And this made me laugh: "Ed comes to deliver the raisins he forgot to deliver last time. I want to tip him and then I remember I'm married to him." At one point, she exclaims: "I would never have married me." So what is the secret to staying married? "We don't see each other a lot. God forbid if we ever ended up in the same room, there would be the silence of silences." I am not quick enough off the mark to say: tell me the truth, Ruby.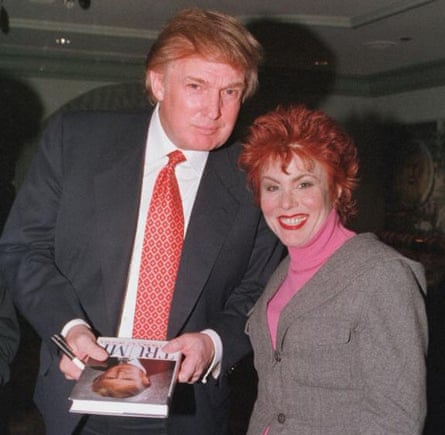 Wax shudders when I ask her about retirement. She writes amusingly about her horror at an imagined prospect of a life spent taking tea with other retirees. And yet she now protests (again that fear of being misrepresented) that she likes taking tea with friends. Later on she volunteers: "I don't potter around or ever say, 'I can't wait to go and do some planting.'" And when we touch on the subject of how depression can flourish in a limbo just as much as when a life is in overdrive, she slips in the aside: "People die when they retire."
Wax trained at the Royal Scottish Academy of Music and Drama, got into the RSC and was coached in comedy, she has said, by her late, great friend, the actor Alan Rickman. I've always been fascinated by her virtuoso success as an interviewer (her BBC interview with Sarah, Duchess of York attracted 14 million viewers). She used to talk celebs into relaxing: "When people said, why do you talk so much, I'd say, I'm warming them up, I'm auditioning for them. If I'd not been funny in front of Jim Carrey, he'd only have given me five minutes. I had to entertain people, make them want to be my friend." She conducted her interview with Goldie Hawn in bed but when she interviewed Donald Trump in 2000, he had no intention of becoming, even briefly, her new bestie. The interview made brilliant television but still makes her "sick to my stomach". He described Wax to her face as "angry with a smile". She points out now: "It is a brilliant phrase… but he is angry himself – with everything. Pure rage." He tells her: "That's enough, I have a headache." She retorts: "Do you hate me?"
---
Wax has made a life setting herself challenges. Wherever she goes, she is ready to do the difficult thing. Her recklessness and perseverance belong together and are part of her charm. In her book, her heart soars with happiness when encountering humpback whales: "150 tons of mammal." At Spirit Rock, a rocky experience at first, she goes through with the month of silence and succeeds in steadying her mind. And when she describes making a documentary, Trailblazers, with Mel B, inspired by the Victorian adventurer Isabella Bird, she boldly climbs back on a horse even though, in 2019, she had a serious riding accident. What caused that accident? "I was wearing sneakers. No one was watching. I know which position to get into for jumping, but did the opposite. What was I thinking? I lent back and the horse went, 'I've got an idiot here', went over the jump and I flipped. I cracked my spine in three places, then did my show at the theatre… I wore a corset which not only made me look fabulous but the audience were: 'Oh my God, look at her, she is standing!'"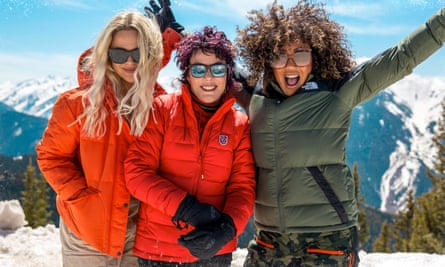 Is she afraid of how life would be if no one was paying her any attention? "Well, nobody does pay attention," she replies, "I can't get a job on television," but then, in the same breath, she corrects herself: "I just did one…" She is talking about Cast Away, a two-part series that just aired on Channel 5 which, on the face of it, sounds like a gimmick: she is stranded alone on an uninhabited island on the Indian Ocean seeking to discover what will be left of her once her "smiley, smiley" self is put aside. But actually it is hilarious, moving and truthful (she does her own filming without a camera crew for much of it). And finally – she genuinely almost forgot to mention it (it really is too early in the morning) – she is doing a show based on her book. This September, she will be touring theatres across the UK. "It will not be standup, it will be more as if you were living it – stories will unfold. We are going to use Complicité' s lighting [the celebrated theatre company], and you will get taken on a journey."
Before I go, she wants to stress that the book was written "Not because I had depression and needed to work my way out of it" but out of a post-pandemic concern that young people (and older) were missing a sense of purpose. In today's Britain, "even those lucky enough to have a job have had an existential slap in the face". She admits to protecting herself from the news, although it comes reliably to her kitchen table (not least because her son is married to Katy Balls, political editor of the Spectator). She admits that when she hears it, she is "enthralled because we are all animals and I want to know how bad it is." And now she has more scorn to pour on herself: "Who am I to say what life means? I'm suspicious of my own idea right from the start." What you might have assumed to be a big ego is under constant siege from this pushy humility. I'm Not As Well As I Thought I Was will enlighten, entertain and comfort others – but is also self-help for Wax herself. "I'm not thinking: how will the audience like this? I write because I am obsessed with something." And she adds: "And because I don't know how it is going to end."